Outdoor patio heaters are becoming more popular every season. As an environmentally friendly alternative to a gas heater, this innovative solution is becoming more common in commercial and private residences. Before you pull the trigger and start stocking an outdoor heater in your store or purchase one for personal use, you want to understand how this one-stop heat solution works. Our buying guide takes you through everything you need to know about Ourdoor patio heaters to help you decide which one best suits your needs.
At Sundear, we've been the leading manufacturer of infrared heaters since 1988. We produce our infrared heaters and lamps in our OEM & ODM factory. Our company holds over 30 design and invention patents, making us the leader in infrared heater innovation.
What Is an Infrared Patio Heater?
An infrared heater is a one-stop heating solution that uses infrared waves to heat a space effectively and economically by targeting the person or object. What makes these heaters unique is their ability to provide a consistent level of warmth using infrared waves. Their consistent heat level makes them ideal for long-term use in a commercial or private setting as the temperature won't fluctuate. 
The most popular style of infrared heater for customers is a far-infrared heater. These heaters create a curated household temperature that is ideal for human use. An infrared heater is 100% safe for humans as it uses a safe form of electromagnetic radiation, producing non-ionizing radiation.
Infrared heaters operate by warming up the object (or human) in question instead of wasting energy by heating the atmosphere. As well as being more efficient, this process makes the air more comfortable for you to breathe.
How Does an Infrared Patio Heater Work?
Infrared patio heaters work by converting electricity into heat, which is transferred to the person or object without unnecessarily heating the air around it. These infrared waves can travel a larger distance in the area, making them more economical than traditional gas heaters. While conventional heaters waste energy heating the air, infrared waves locate and heat the object.
The heat from infrared waves is similar to what the sun produces for heating up the heart using the light produced by electromagnetic radiation. The main difference is that infrared heaters don't have a light source and are instead absorbed into the skin or object that is subjected to the infrared waves.
Infrared waves work by using bio-mimicry, a process where the body absorbs the heat as it requires it. One of the most common questions is whether infrared heaters are safe for human use, especially when the word 'radiation' appears frequently when discussing this heating solution. The International Commission for Non-Ionising Radiation Production (ICNIRP) has declared that infrared waves cause "no practical concern from a health hazard standpoint". You can be confident that infrared waves are safe for human use. This process is due to the fact infrared waves are similar to what is produced by the sun, the world's natural heating source, which means our bodies are already designed to naturally absorb infrared waves.
How Much Heat Do You Need for an Infrared Heater?
The heat your infrared heater produces depends on the model you choose. Typically, an infrared heater requires somewhere between 120-240V, 1500W-3000W,.
The Advantages of Electric Patio Heaters vs Gas Heaters
The benefits offered by an electric patio heater far outweighs anything you'll get with a conventional gas heater. An infrared heater offers 90% heat efficiency, making it more economic and cost-effective, particularly in a commercial setting, compared to a conventional gas heater.
While gas heaters take time to build up their heat source, you can start to feel the heat from your infrared heater within seconds. At Sundear Heater, our infrared heater systems can cover an area of 12-36m2, making them more efficient and energy-saving compared to their traditional gas heater counterpart.
An infrared patio heater is an ideal choice for those who suffer from respiratory issues as the heat consistency means there is a lower likelihood of mould developing in the heater due to dampness. The heat consistency also reduces dust in the air, keeping the air clean and circulated for people with allergies.
Our infrared patio heaters are held in a corrosion-resistant aluminium coating, which keeps the exterior cool to the touch and safe to adjust by dispersing the heat, preventing any unwanted accidents that might happen if you touch the coils.
The infrared waves process means the heater doesn't produce any carbon monoxide, which is safer for both you and the environment. As a result, the heater doesn't create any of the fumes or odours produced by a conventional gas heater. An infrared heater doesn't circulate any harmful particles into the air, making it a more environmentally friendly alternative to conventional heating systems.
While a gas heater creates an irritating sound, the operating system of an infrared heater is silent, making them ideal to use in your home.
An infrared heater requires less maintenance than a gas heater due to its corrosion-resistant aluminium coating, which prevents rusting and keeps the system cool.
Types of Infrared Patio Heater Styles
At Sundear, our patio heaters are rustproof and waterproof for outdoor use. Each heater has a corrosion-resistant aluminium coating, which expands the life span of the product and makes maintenance more manageable. At Sundear, we offer a variety of infrared heater designs for you to choose from, with an option available for every setting, whether it's for an outdoor commercial space or as an indoor heating solution for private homes.
We're giving you a quick rundown of some of our most popular styles of infrared patio heaters to help you decide which ones best suit the needs of yourself or your customer base.
We offer multi-functional infrared heaters that can be utilised in multiple ways – as a ceiling, wall-mount or free-standing infrared heater. To give you a taste of what to expect from these multi-tasking heaters, here are a few of our most popular styles:
Sundear Star
This style uses infrared medium wave technology and offers a soft heat light that is easy on the eyes. You can install this type of heater either on a wall or ceiling, as well as utilising them as a free-standing heating solution. Our carbon fiber heaters function with a remote control that offers 4 power settings and timer control. This outdoor heater provides instant heat with 2000-watt power, working on a power consumption of 2kw/hour.
Our 'Sundear Star' heater is IP55 waterproof, protecting the system from dust and water for outdoor use. This infrared heater is designed for commercial use and provides heat for up to 5 meters distance.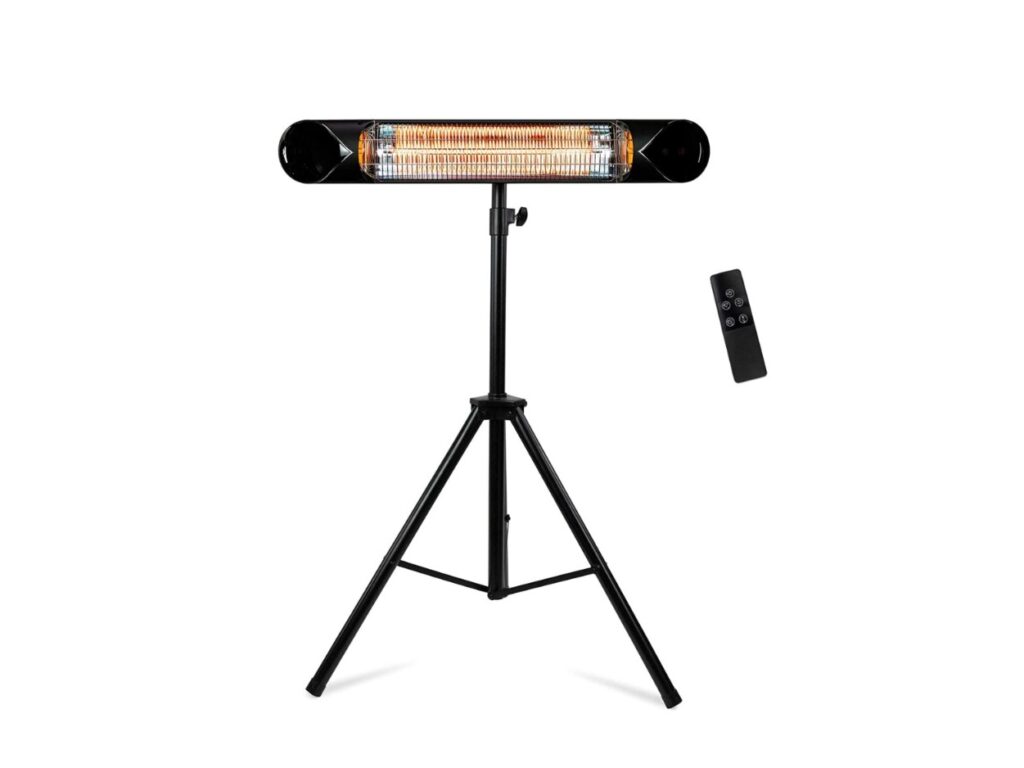 Sundear Sole
Our 'Sundear Sole' is an infrared panel heater that operates without lights and uses an innovative MICA heat system. This IP65 system is suitable for indoor and half-open areas on your property. This infrared heater can be installed in a ceiling space with a heating area of 12-18m2 and is controlled with a remote that offers 2 power settings. You can utilise this style of infrared heater anywhere from a private office to open gym space.
Sundear Moon
This carbon fiber heater comes as a wall mount and free-standing option with a durable aluminium housing and S/S304 material. As a free-standing heater, you can utilise this style anywhere from a private patio space to an outdoor commercial area due to its versatility.
Sundear Rainbow
As a carbon fiber heater, this infrared heater offers versatility and style, allowing you to install it as a wall mount or to your ceiling, as well as using it free-standing.
Our hanging patio heaters are easy to install with a ceiling chain and hook. They offer excellent heat efficiency and are considerably more affordable than a traditional gas heater. The 1P34 system protects against dusty and rain, making it suitable for indoor and outdoor use in private and commercial properties. You can use this infrared heater decoratively as a lamp with the functionality of an infrared heater.
OS1500
This style has been made with gazebos and patio areas in mind. You can easily attach the infrared heater lamp to a gazebo or any outdoor ceiling using the chain and hook provided. You can utilise up to 5,000 hours of infrared heat with this lamp style.
GS1500
Our GS1500 model offers the same benefits as the previous OS1500 overhead heater but utilises a more decorative design. It's easy to install with the included ceiling chain and can be used both indoors and out. What makes this model more unique is that it comes with a remote control setting that allows you to turn the infrared heater on or off without having to reach up to the lamp.
Standing patio heaters are a portable option and an ideal alternative to any gas heater that you might currently be using. This style is the easiest to install and is maintenance-free. These free-standing options can be used anywhere from a balcony or porch to a patio area in commercial and private properties. The downward heat source can provide heat for up to 6m2 around the perimeter of the heater. As an easy-to-use system, our standing patio heaters utilise safety features like an on/off switch, protection against overheating, and a system that instantly turns the heater off if it tips over.
SS2000
Our standing table heater is designed for outdoor use and offers 50% energy saving compared to traditional gas patio heaters. It's a more efficient alternative and emission-free. It offers instant heat for 4.5-6.25m2 around the lamp, with an aluminium housing and 304 stainless steel mesh. This infrared heater style can be used in any outdoor space, from a private patio to a beer garden. The premium halogen lamp technology gives you an optimal heat output, with similar safety features to our GS1500 model, including automatic power off in the event of the lamp tipping over.
A portable table heater is a perfect option for smaller spaces such as private gardens or if you want to utilise one heater for every party or group in your outdoor space. This portable tower heater has a cool-touch design and runs economically with a lifetime of at least 10,000 hours, using carbon fiber bulbs to utilise the infrared waves. The IP44 system is suitable for both indoor and outdoor use, making it one of the most versatile options on the market. This system is designed to fit comfortably under a seat, giving added efficacy.
Sundear TBH
Our signature portable table heater offers 360 degrees of heat distribution and is a practical and compact option for any private or commercial space. It offers 10,000 guaranteed hours of service life, and the IP44 is suitable for indoor and outdoor use in private and commercial spaces.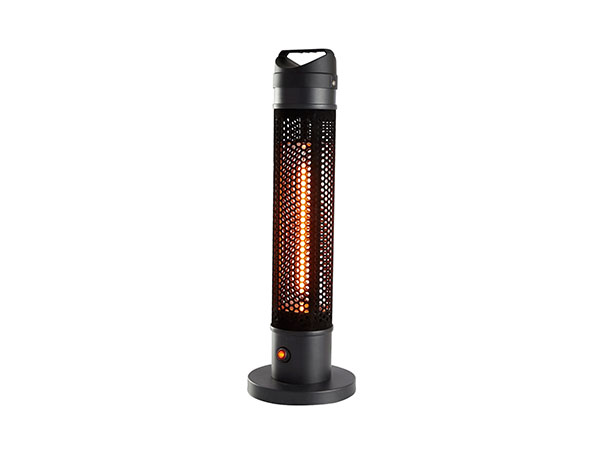 Where Do People Use Infrared Patio Heaters?
An infrared patio heater is a practical and stylish alternative to traditional gas heaters, allowing you to optimise space with the ceiling and wall-mounted options. The versatility of these systems enables you to adjust the angle of the heater to target the area of the room you're looking to directly heater. The effectiveness of infrared heaters means you find them everywhere, from private homes to commercial properties. They are an energy-saving and environmentally friendly heating solution.
You would be surprised by how often infrared patio heaters are used in commercial spaces. You've likely sat down beside one without even realising it. The versatility of infrared patio heaters, particularly portable options, means they're a popular choice for bars and restaurants. You'll often find them installed next to outdoor seating areas where customers can enjoy food and drinks all year round. Due to the pandemic, outdoor seating has become even more popular, and not just in the warmer months when demand reaches its peak.
Bars and restaurants aren't the only businesses to utilise the potential of an outdoor heater. Construction and other projects that involve outdoor working have been using this one stop heat solution for years to enable workers to continue their work later in the evening and during colder weather. These businesses utilise various styles of infrared heaters, particularly portable options that can be moved and adjusted throughout the site to meet the needs of the workers.
As the name suggests, infrared patio heaters are often found in private homes, particularly in backyards and gardens with a patio or decking area to facilitate outdoor eating and sitting.
Health and Safety
At Sundear, our heaters are approved CE, CB, ETL, cETL, GS, RoHS, and SAA.
If you're considering stocking our infrared heaters in your online store, we can assure you of their durability. Our heaters come safely packaged and have passed the drop test by ISTA-61 standards, making them suitable for online sales.
An infrared heater doesn't emit ultraviolet waves, which are on the higher end of the electromagnetic spectrum. Infrared heat sits on the lower end of the electromagnetic spectrum and doesn't have the same properties as ultraviolet rays.
For additional health and safety, we recommend limiting long-term exposure to infrared heaters. If a customer is planning to enjoy the heat of an infrared heater for several hours, we recommend they sit a safe distance away from the heater itself.
Infrared Patio Heaters and COVID-19
The popularity of infrared patio heaters has been on the rise for several years, but its growth has been turbocharged during the Covid-19 pandemic. With customers looking to avoid indoor spaces when socialising with their friends at a safe distance in their gardens, more people are using infrared heaters to keep themselves warm. Covid-19 has also led to a rise in outdoor eating and drinking for bars and restaurants, with these commercial spaces investing in infrared heaters to accommodate customers.
Due to Covid-19, commercial businesses will now be utilising their outdoor spaces year-round to deal with the aftermath of the pandemic. Before Covid-19, infrared heaters were largely seen as a seasonal necessity for businesses that offered outdoor seating in the winter. Now, it's clear that outdoor dining is here to stay, pushing companies to invest in infrared heaters to keep their premises safe for customers and operators. Stockists of infrared heaters in the United States have reported anywhere from a 90% to 135% increase in year-on-year sales in 2020.
The most in-demand infrared heater styles include umbrella domed and portable options that can be moved around a commercial space to accommodate the needs of customers and guests. While it's impossible to have a crystal ball to predict the future, we can be confident that the pandemic has impacted consumer behaviour, with more customers choosing to utilise outdoor spaces for their safety. As a result, stocking infrared heaters for your online or physical store could become a lucrative sales funnel.
Infrared heaters are a hot commodity and make a great addition to any e-commerce or physical store. As an environmentally friendly and energy-saving alternative to a gas heater, these innovative one stop heating solutions are facing increasing consumer demand in the wake of the COVID-19 pandemic. We hope this guide has helped you identify which style of infrared heater would best suit you or your customer's needs.